World's best chrome polish
For chrome so bright, you gotta wear shades!™
Blue-Job
®

Chrome Polish and Pipe Wipes

™

quickly remove exhaust pipe bluing or discoloration, surface rust, and they polish your chrome to a high gloss shine in one easy step.
Product Benefits
Designed for chrome and stainless steel | Concentrated formula | Removes bluing and discoloration caused by heat and oxidation on the exhaust pipes | Restores to original shine | Won't dull, scratch or leave swirls | Cleans off rust and burnt shoe rubber | No oil or waxy residue | No fingerprints
Blue-Job
®

Powder

Blue-Job® Chrome Polish has a unique nonabrasive, highly concentrated, powder formula. Each jar contains an ounce (28 grams) of ultra-concentrated, easy, fast, safe, non-toxic chrome polish powder. The product is environmentally safe, with a balanced neutral pH factor and will not harm skin. Can be used by chemically sensitive people. Does not generate irritating fumes.

Learn more on where to find Blue-Job

®
Blue-Job
®

Wipes

The 9.5" x 4.5" ultra soft Blue-Job® Pipe Wipes™ finishing cloth will never scratch, swirl or dull chrome. The micro thread design holds and separates polish to precisely finish precious chrome, gemstones, mirrors and fine crystal.

Learn more on where to find Blue-Job

®

Pipe Wipes

™


Use instructions
Let your pipe cool off first, so you don't burn your hand.

Dampen applicator or Pipe Wipe™ with water.

Dip it into the powder. NOTE: Blue-Job® is a concentrate (a little goes a long way).

Make a thick paste on the chrome surface of your pipes. If your paste is too wet, the product will not work.

Rub until the bluing, discoloration, rust, fingerprints and residues disappear. Rub the surface in a back-and-forth motion, as hard as needed to remove discoloration (oxidation). Do a small area at a time. Blue-Job® will not scratch!

Finish with Blue-Job® Pipe Wipes™.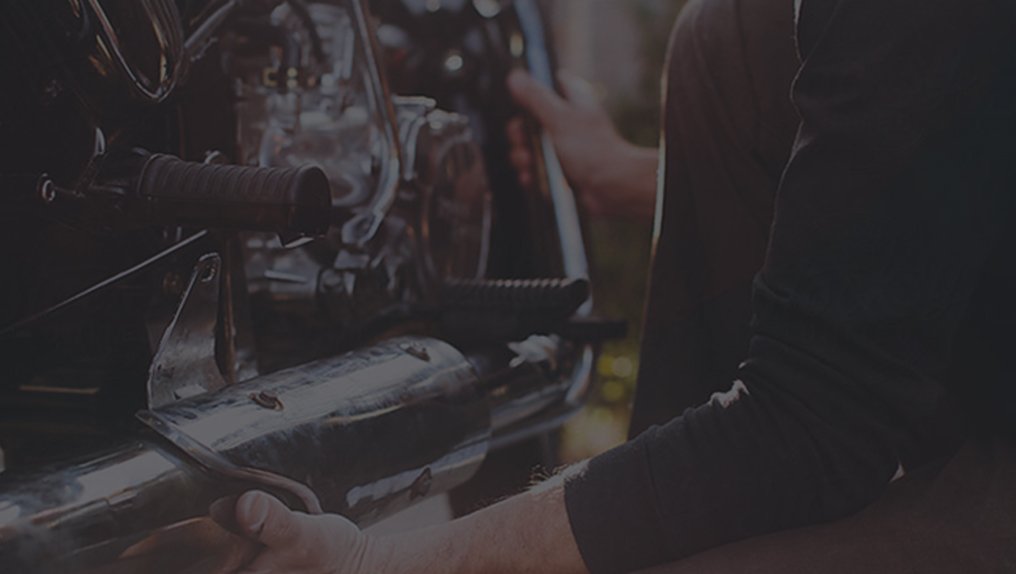 Close
Tips
To Remove
Burned Rubber
Start the engine, warm it up.
Be careful you don't burn yourself.
Use a wood stick to scrape the thickest chunks of rubber off.
After the exhaust pipes are cool, use Blue-Job

®

Chrome Polish.
New Bike Tip:
Protect Your New Chrome
Always prep new pipes with Blue-Job® before starting the engine for the first time.
Removes waxes, oils, factory residues, and fingerprints.
Prevents hotter oily areas from oxidizing the chrome to a blue and gold color.
Application uses
with other surfaces
Chrome
Stainless steel
Brad
Gems
Jewelry
Fine crystal
Mirrors
Television / Computer screens
Here's what others have to say
Normally I'm skeptical of reviews... But after getting my pipes "burned" in after 100 miles on the new bmw, I was sad there were oils on the pipes that got baked in. Found this BLUE-JOB product and all I can say is WOW!

Steven's Facebook Post Steven P.
I was so amazed at the job that Blue Job did, I had some burnt on rubber on the exhaust pipe of my Harley for a little over a year but once I put the blue job on it. It was basically like new. Attached are the before and after pics. Thanks again for an amazing product.

Demetrius M.
This product works as advertised. If your pipes are turning blue after using this to "remove" bluing, you have too hot of exhaust gasses. Plus, you must put effort into removing the bluing. It is not a simple wipe on wipe off process. My photos show a work in progress of just 20 minutes on pipes from a 1999 Honda Valkyrie that had a lean burn condition.

Aaron H.- Amazon Customer
Blue-Job® is one of my favorites. Blue-Job® is a really neat product that's going to eliminate the bluing from the pipe. Blue-Job® is the way to remove it. See the magic. Blue-Job® is amazing.

Kyle's video review Kyle B., Cruiser Customizing
Blue-Job® truly is an amazing product! It is not your average chrome polish; it is a deoxidizing agent. It reverses the affects of oxidation! If you have a problem stain on chrome, you need Blue-Job®! Melted plastic, shoe rubber, rust and even the exhaust pipe blues can be removed with Blue-Job®. I guess it's only natural that when the pipes heat up they will start to blue again… but I don't think there is another product out there that removes the blue.

Jay's online product review Jay G., in his Road Captain USA blog post
Blue-Job® Chrome Polish. This stuff works great. It's just absolutely amazing. Guys will love this stuff. My expansion chamber is now virtually rust-free and really holds a shine. To be honest, I didn't even recognize it after it was done. And that's all due to Blue-Job® Chrome Polish.

Rob's online review Rob G.
Blue-Job® in combination with the special polishing cloth (Blue-Job® Pipe Wipe™) removes the bluing and yellowing without leaving the micro-fine swirls (scratches). Also Blue-Job® brings back the refractive qualities of show chrome like no other polish does.

Fishcastnet's online review Fishcastnet
The best product I ever used on my bike. Pipes look brand new.

Bill S.